DEV-ADC34J22 ADC HSMC MODULE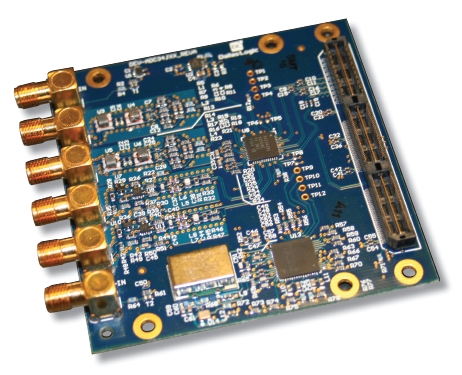 Module Details :
Quad ADC Module supporting JESD204B, Subclass 0 and 1.
Features Texas Instruments new ADC34J22 JESD204B ADC device.
Showcases JESD204B using Altera's Cyclone V family of FPGAs.
Two RF DC Coupled input channels via TIs new THS4541 differential amplifier.
Two RF AC Coupled input channels.
DC Input – Input Range +/-0.5V (1Vpp), DC-15 MHz
AC Input – Input Range +/-1.0V (2Vpp), 0.5 – 200 MHz
External Clock and Trigger input.
Compatible with ARROW Electronics SOCKIT Cyclone V evaluation platform.
Reference design available for SOCKIT board.
VHDL based design files (Quartus) include MTI's JESD core instantiation.
DEV-ADC34J22 module is configured at power-up by SOCs ARM processor (ADC and LMK04828).
Information :
The DEV-ADC34J22 module is based on Altera's® HSMC (High Speed Mezzanine Card) specification.  The module provides the following primary devices:
Texas Instruments ADC34J22 ADC device
Supports sampling rates up to 50MSPS at 12 bit resolution
Texas Instruments LMK04828B Clock IC with Jitter Cleaner
10 MHz TCXO Reference Oscillator
100 MHz VCXO – First Loop VCO
Texas Instruments THS4541 Differential Amplifier
The DEV-ADC34J22 module is intended to be connected to ARROW® Electronic's SOCKIT CYCLONE V development platform via the HSMC connector.  The DEV-ADC34J22 provides a reference clock to the SOCKIT host FPGA system board, and can also utilize external trigger and reference clock inputs.  Other HSMC based FPGA host boards can also be utilized.
Images :
Customer Support Files :

 DEV-ADC34J22 Brochure (1.2 MB)


 DEV-ADC34J22 User Guide Rel.1.0 (1.9 MB)


 DEV-ADC34JXX Schematic Rev. B2 (822 KB)
Link To ARROW Electronics DEV-ADC34J22 Product Page
Link To ARROW Electronics SOCKIT Product Page 
Product Data :
| | | |
| --- | --- | --- |
| DEV-ADC34J22 | ADC34J22 HSMC Module | 200.00 US |